MAHALAKSHMI SRINIVASAN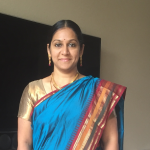 Mahalakshmi was introduced to Bharatanatyam at the age of 9 under Guru Kausalya from Chennai, India. After moving to the US, she started training under Smt.Kripa Baskaran and gave her debut performance in 2009 at the Oconomowoc Arts Center. She performs widely with the Natyarpana's Performing troupe and handles beginner's classes and helps with Natyarpana's administrative work.
NANDIDA VARIATHODY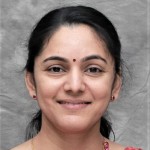 Nandida started training in Bharatanatyam at the age of 7 under Smt.Nalini Jayanthi, Chennai. With a Bio Medical Engineering degree to her credit, Nandida rekindled her passion for dance by starting classes under Smt.Kripa Baskaran in Wisconsin and performed her arangetram under her guidance. Nandida is an active performer and a part of the Natyarpana ensemble, travels with the dance company for dance shows and lecture demonstrations. She has had the privilege of performing at the Cleveland Thyagaraja Aaradhana with Natyarpana as a featured performance and received great critical acclaim for her role as "Mantara" in "Shri Rama Katha Sudha", a dance ballet choreographed by Kripa Baskaran.
DEEPA REGHURAM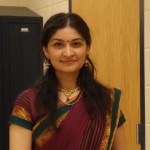 Deepa was trained under Sri.Kalamandalam Manikuttan and Smt. Kalamandalam Sridevi in Kerala, India and later continued her training under Smt.Kripa Baskaran. Deepa performs with the dance company and has been teaching in Natyarpana since 2011 upon completing her teachers training program.
PRIYADARSHINI MEENAKSHISUNDARAM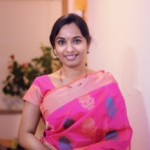 Priya is a committed dancer and faculty at Natyarpana. Her journey as a dancer has began at a young age of 4 and has undergone rigorous training in kuchipudi and Bharatanatyam for more than 17 years. She received her initial training under guru Bhagavatula V. R. Sarma and later, with guru C. H. Ajay Kumar, Guru Sri Vedantam Venkata Chalapathi and Smt.Kripa Baskaran. She has been performing several solo and group recitals across India and abroad. She has moved to US in 2009 to pursue her Master's degree and have been actively performing in US since then. She participated in Inter school and university dance competitions and won several awards.
PRIYA NAGARAJAN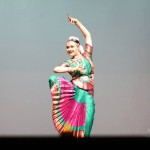 Priya Nagarajan is a substitute teacher at Natyarpana and assists with classes in a teacher's absence. She has been dancing for over two decades now and completed her arangetram under Smt. Kripa Baskaran in 2013. Priya balances her responsible corporate career and Bharatnatyam and is a very devoted practitioner classical arts and Yoga.